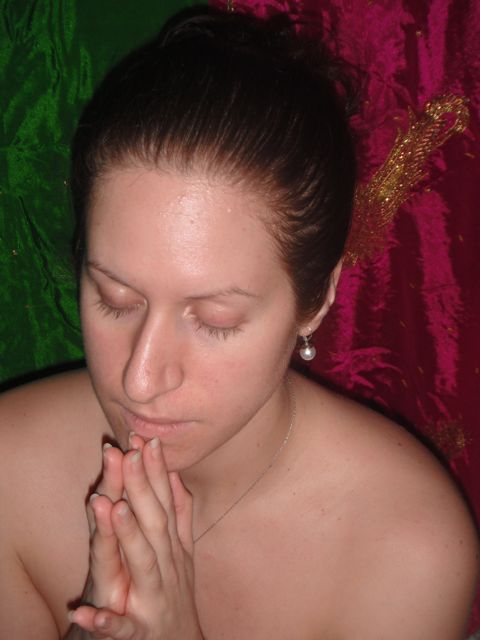 Yoga was developed as a way to achieve physical, mental, and spiritual balance which is completely in harmony with naturism. The best way to practice it is in your natural state free of the restrictions and distractions of clothing.
Summer yoga classes are usually held in the clubhouse while winter classes are held in the Clubhouse.
Schedule
Please
contact the office
or visit the
events page
.
Fee
6 class package $40
Daily $10
Mat rental $2
Members receive their first class free!
Nikki's classes are created to suit both beginners and more advanced yogis. She balances soothing breathwork and voice with energetic feel good moves to strengthen and revitalize the body.
What people are saying about Nikki's yoga classes:
"I love going to your yoga classes. I feel so much more relaxed afterward. The stretching helps me with my day to day movements. I now realize how much I miss the twice a week classes. I hope they start up again soon."-Sandy
"Nikki is a fantastic leader for our unique (naturist) Yoga class. She starts with ensuring that worries of the day are swept away hence getting full benefit for mind and body. I love it and look forward to the Sunday classes starting again." Suzy B.
"I like that you mix core workouts with restful positions. The best part is how rejuvenated you feel after a session! I've done Yoga at lots of other places, but none of them compare to doing Yoga here at Bare Oaks. Nikki is really great at working with people of all skill levels, while creating a warm supportive environment. Not wearing clothes makes Yoga that much more freeing." –Sabina
"I've been attending Nikki's yoga class for 6 weeks now and every week I feel more flexible. Nikki has a lovely, warm, gentle voice which helps us forget the pressures of the day and relax. Her instructions are clear and easy to follow, we are all encouraged to concentrate on ourselves and, as a result, we do not feel self-conscious and have a wonderful sense of well-being." - Julie
Please contact the office before attending to confirm availability as well as the time and date. Non-members must also register in the office before closing time. (which is 6pm on most days)
Disclaimer: The yoga classes are provided by an independent individual. Bare Oaks Family Naturist Park only coordinates the arrangement and is not responsible for the service provided.