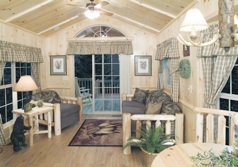 Bare Oaks is proud to offer new and custom built trailers through our prefered suppliers: Cedar Beach Trailer Sales and McKenzie RV Trailers. Members who purchase through one of our prefered dealers do not have to pay the development fee.
There are basically two types of trailers that Bare Oaks members will be interested in.
Towable RVs which designed to be towed by a car, SUV, mini-van or pickup truck. They can be unhitched on arrival at the campsite. Members with a year-round campsite can leave this trailer on their site all year round but can also take it with them on their vacation. They can be as small as a foldable tent trailer or as large as a fifth wheel travel trailer.
Park Model Trailers are RVs with complete living quarters. (both the Park Model Trailer 102, built to RV specifications, or the Park Model ecreational Unit) The interiors are generally like a residence with features that ranges from basic to luxurious. These trailers are too large to be regularly moved without specialty equipment.
Motorized RVs are a third possibility best suited for regular travelers. They have the disadvantage that the entire RV must leave the campsite when visiting attractions in the area you are visiting. (unless you bring a secondary vehicle with you)
Note: Park Model Trailers can be placed on any lot at Bare Oaks. However, lots in Beckett Circle will require black water holding tanks and pump-out when tanks are full. The frequency of pump-outs will depend on usage.
Pricing will vary depending on options selected. Financing is available based on your credit history. Depending on your financial situation, you may qualify for 100% financing amortized over a period of up to 20 years.
For more information, pick up a brochure in the Bare Oaks Office or contact us.


SAMPLE PARK MODEL TRAILER LAYOUTS
(Layouts are completely customizable!)