Used Trailers
TRAILERS AVAILABLE FOR SALE BY PARK MEMBERS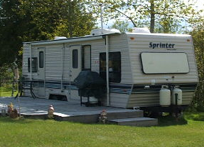 Trailers become available for sale regularly as people upgrade or move away from the area. Check this page often if you are interested in a used trailer.
To visit one of the trailers below or for more information, please contact the office.
Please note that all Trailers or RVs that will be staying on the property must be sold through the Bare Oaks office. This is necessary in order to insure that all potential purchasers are aware of Bare Oaks regulations and are appropriate for membership. Trailers or RVs sold directly must be removed from the Bare Oaks property. Site leases are not transferable. We strongly recommend that you inquire at the office before you begin negotiating to purchase a trailer or RV.

Used Trailers RSS Feed
Trailer only – campsite not included


Sleeps 6
One Queen Bed/2 Bunk Beds
Fridge, Stove,
New flooring
Great Starter Trailer

Price $1000.00 – SOLD!

---
Trailer only – campsite not included

Price: $17,995 – SOLD!

Three season park model trailer

39 feet long (not including hitch)

Three bedrooms

Full size stove and refrigerator

Pull out sofa and two matching chairs

Dining table and four chairs

New toilet

Air conditioning

Furnace

Electric hot water heater, 20 gallons

Sleeps up to 8

Nice family unit!
---
Price: $97,000.00 - SOLD!

Size
64' x 16' Without Tongue, Over 1000 square feet
2 Bedrooms, 11.8 x 15.8 & 11 x 15.8

Included
Fridge/Freezer, Stove (Propane) and Dishwasher
Top Load Washing Machine, Front Load Dryer
Water Heater – 40 Gal.
Decks – 2 – 384 sq ft
Shed 12' x 8' X 8', Wood, Double Doors, Wired, Bench & Shelves
---
26 foot 5th Wheel

Excellent Condition

One slideout

Lots of storage space

New Tires

$11,500 – SOLD!
---
Propane stove and oven
Propane furnace
Electric fridge
Includes 23'x10' deck and 10'x10' gazebo
Scenic lot with firepit

Asking: $3,500 - SOLD!
---
Page 3 of 3
«
Start
Prev
1
2
3
Next
End
»