Lee Baxandall Memorial Volleyball Tournament
August 18 – 20, 2023
(3rd weekend in August)
Friday – free play and volleyball fun
Saturday – Tournament #1, stand-up comics
Sunday – Tournament #2
Come for one day, or come for all. Lots of play time!!
Tournament Divisions
If you are new to volleyball or want to experience a casual play style, then this division is for you. We put together teams of 6 people with a later start and more time to relax between games. Only basic volleyball rules are applied.
You have limited experience and looking for a bit more action on the court. Advanced rules are applied and 3 contacts with the volleyball is encouraged.
You are an experienced volleyball player looking for lots of ball contact. It is played in teams of 4 with all volleyball rules applied.
You are an experienced and skilled volleyball player. This is the highest level we offer and players are encouraged to form their own teams prior to registering. It is played in teams of 4 and all volleyball rules are strictly enforced to ensure that the quality of volleyball is high.
Note: We only run 5 courts so, to ensure that everyone plays as much as possible, we limit registration to 24 teams or 144 players.
Plus:
Bare Bistro – full-menu (including beer & wine) restaurant with tournament specials
Campfires (bring your instrument and/or your voice)
Children's activities
Court-side music
Indoor Open Mic
Bare Oaks Players Present live plays
Poker, Darts, Ping-Pong, Billiards, Sauna, Hot Tub, Pool, Lake, and all the other amenities f Bare Oaks Family Naturist Park
Prices
Tournament Fees
(Per person, Day Ground Fees INCLUDED)
| | | | |
| --- | --- | --- | --- |
| | Visitors | Members | Youth (19-25) |
| One Day | $39 | $10 | $15 |
| Two Days | $59 | $10 | $25 |
| Three Days | $69 | $10 | $30 |
| Non-playing partner of a registered player | $15/day | n/a | $5 |
| Extra Days when staying overnight – must be contiguous | $15/day | n/a | $5 |
| | Children 18 or under play free. | | |
Overnight accommodations
See our accommodations page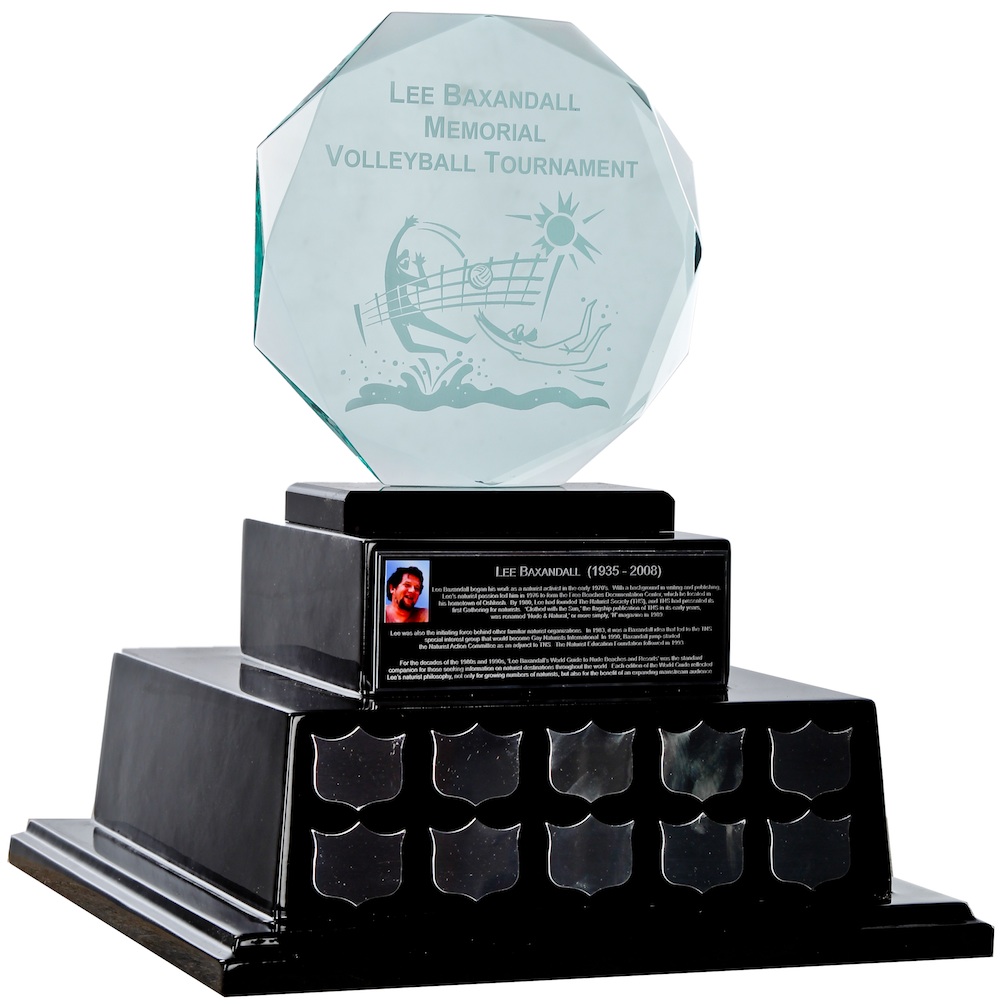 Contact
Tournament questions & reservations: volleyball@BareOaks.ca
Accommodation questions & reservations: contact Bare Oaks Family Naturist Park
General Tournament Rules
You can only play on one team per tournament.
All players must be registered and wear their wristband at all times.
The Novice Division is for players who are learning, unskilled or inexperienced.
You can't change teams once you have started playing.
Only team captains can speak with referees. All protests must be made prior to the next whistle or play.
Unsportsmanlike behaviour or language will result in immediate disqualification and possible ejection from the park.
Practice or warm up should be done off the courts.
Each team will be called 3 times starting 10 minutes before play. If your team does not show up, the game will be forfeited.
We use Rally Scoring so every point counts. Net Serves are legal. You must win by 2 points and there are no score caps unless specified by the official.
The team captain must report the score to the administration tent.
When there are no referees, teams will be officiating each other. Do not walk away after the game without checking if you are officiating the next game.
Teams must score, officiate, and work the lines as marked on the schedule.
All players must play nude accept hats, shoes, knee pads and other essential volleyball gear. (all divisions, all levels, all ages) After all, this is a naturist volleyball tournament. Make sure you use plenty of sunscreen to prevent sunburn.
Only the top team in the top level will be inscribed on the trophy.
Lee Baxandall (1935-2008)
Lee Baxandall began his work as a naturist activist in the early 1970's. With a background in writing and publishing, Lee's naturist passion led him in 1976 to form the Free Beaches Documentation Center, which he located in his hometown of Oshkosh. By 1980, Lee had founded The Naturist Society (TNS), and TNS had presented its first Gathering for naturists. 'Clothed with the Sun,' the flagship publication of TNS in its early years, was renamed 'Nude & Natural,' or more simply, 'N' magazine in 1989.
Lee was also the initiating force behind other familiar naturist organizations. In 1983, it was a Baxandall idea that led to the TNS special interest group that would become Gay Naturists International. In 1990, Baxandall jump-started the Naturist Action Committee as an adjunct to TNS. The Naturist Education Foundation followed in 1993.
For the decades of the 1980s and 1990s, 'Lee Baxandall's World Guide to Nude Beaches and Resorts' was the standard companion for those seeking information on naturist destinations throughout the world. Each edition of the World Guide reflected Lee's naturist philosophy, not only for growing numbers of naturists, but also for the benefit of an expanding mainstream audience.