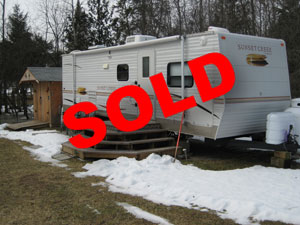 27 foot 2007 Sunset Creek
Site 221

Price: $52,000 $46,000 SOLD
Golden turn key opportunity!
Situated on a prime site, well treed and grassed – site 221 on second Loop of Beckett Circle.
27 foot 2007 Sunset Creek, model 279RB, type TT with extra large bathroom and octagonal entrance.
Contents include completely equiped kitchen, hd tv, microwave, propane stove. Fridge, heater, air conditioner, double bed and ample storage.
With custom built 8 x 10 hard wired, wood shed including chain saw, compressor, leaf blower, circular saw, work bench and hand tools.
With golf cart E260 EasyGo that has new batteries installed in May 2014.
With outdoor furniture – 3 aluminum love seats, aluminum bench, outdoor solar lamp post and 2 outdoor clocks.
With custom built fire pit and generous supply of fire wood.
Buyer must be or become a park member and lease the site from the park.
Contact James Cozzi at (905) 237-5438 or the Bare Oaks office for details.