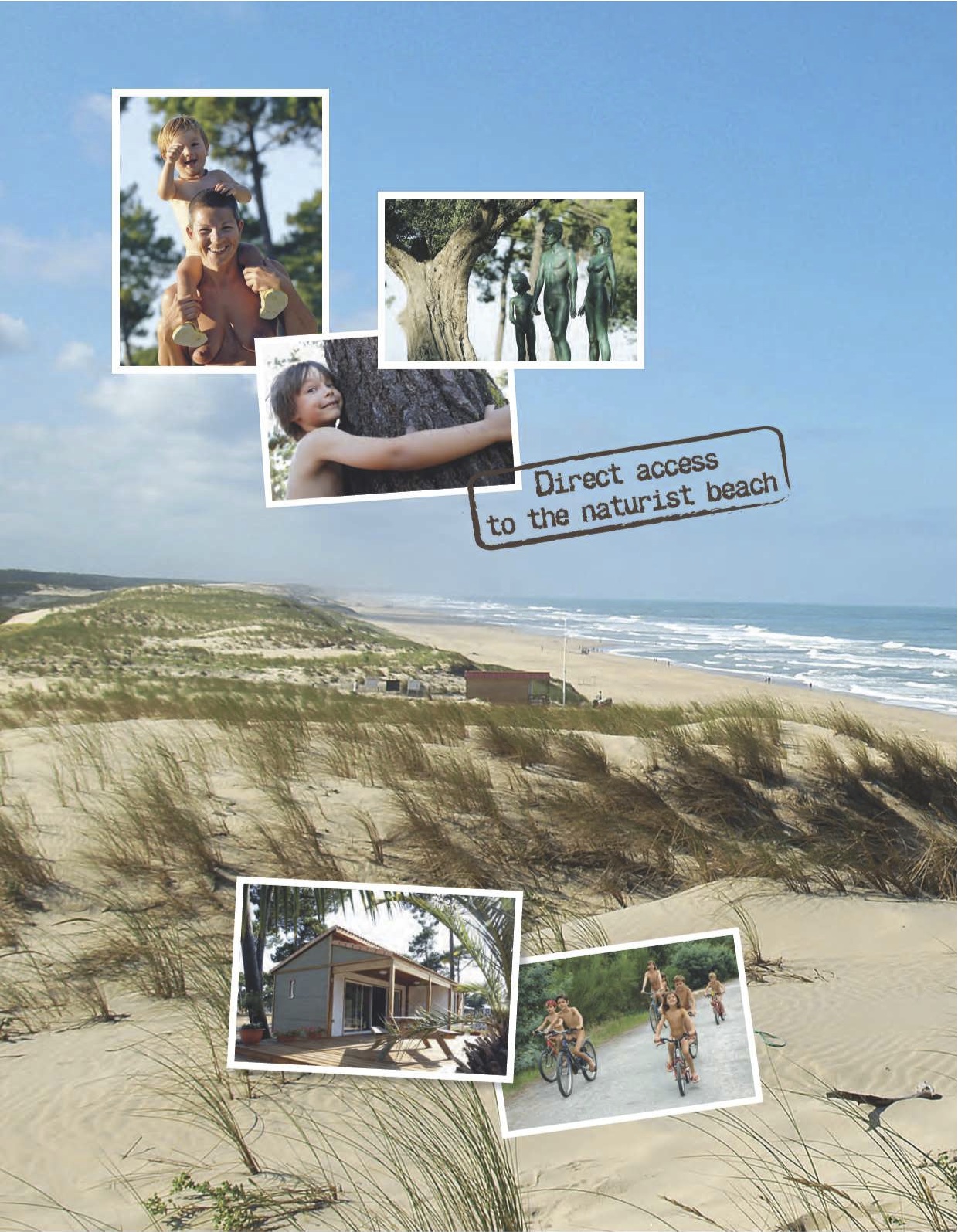 Naturist Vacation in France!
After the success of the 2013 trip, we decided to do it again! But based on the feedback, this time offering more flexibility. This year you have the option 1 or 2 weeks at the CHM Montalivet and an additional trip to Paris is also an option. Airfare is no longer included to allow for multiple departure points and to give you more flexibility. (e.g. some people want to use frequent flyer points to get there)
Maximum of 50 people – that could be as few as 25 couples or 12 families (assuming two adults and two kids) First come, first served! Last date for booking: Feb.28 or when the maximum is reached.
Packaged group rates that includes essentially all costs except meals:
June 28 – July 5 (one week)
or
June 28 – July12 (two weeks)
Bus from/to train station or airport in Bordeaux to/from CHM Montalivet
Full service (bedroom, kitchen, bathroom) accomodation at CHM Montalivet. Make your own food (shops onsite) or eat in one of the many restaurants.
All amenities and activities included
(except for food, lessons, crafts, internet, and spa services)
Optional (additional cost) excursions to area attractions (e.g. winery, Bordeaux, etc…)
4 days/3 night in Paris, July 12 – 15
Note: July 14th is Bastille Day!
Bus from CHM Montalivet to Bordeaux train station
TGV from Bordeaux to Paris (2nd class) Montparnasse Station
Local transport and assistant (English speaking)
Hotel in Haussman neighbourhood of Paris
Breakfast every morning
Tour with guide (English speaking)
Entrance to Eiffel Tower level 2 included
2-hour dinner cruise on the river Seine
3-day Metro pass
Local transport to Airport

Listen to a podcast about Montalivet
Pricing
Note: Additional taxes will apply to Canadian residents.
CHM Montalivet
| | | |
| --- | --- | --- |
| | Jun 28-Jul 5 | Jun 28-Jul 12 |
| Per person, Quadruple Occupancy | $ 319 | $ 529 |
| Per person, Triple Occupancy | $ 389 | $ 679 |
| Per person, Double Occupancy | $ 549 | $ 999 |
| Per person, Single Occupancy | $ 999 | $ 1,849 |
Paris (Jul 12-15)
Per person, Double Occupancy: $ 899
Per person, Single Occupancy: $ 1,129
Additional nights available but you will then forgo the group transportation to the airport.
Note: a minimum of 12 people must add the Paris option for this pricing to take effect.
Organized by Nakations.ca/TPI
Contact Pauline Blacoe
info@nakations.ca
+1 (705) 294-1545
TPI – Travel Professionals International is registered (#01576226) with the Ontario Travel Industry Council of Ontario (TICO). TICO is an organization mandated by the Ontario Government to administer the Travel Industry Act, 2002 and an industry financed travel compensation fund.
Booking your travel services from a TICO registered travel agency ensures you are protected by the consumer protection provisions under the Ontario Travel Industry Act, 2002 which includes an industry financed Travel Compensation Fund.
---
Photos of Montalivet
{vsig}montalivet|autolink=1{/vsig}