Massage Services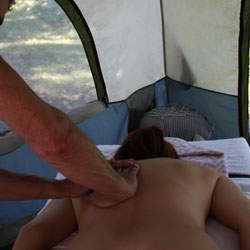 Many choose to enhance their visit by booking a massage which available on the Bare Oaks property most days with an appointment.  The service is provided by independent specialists for relaxation and release of muscle tension.
Contact
the park office for general information.
There are two options for massage.
Michel is a registered massage therapist (RMT). His receipt can be used to to submit a claim under your health insurance if you are covered for massage. To book a specific appointment time of your choice, call or text him directly – his cell phone number is 905-758-8575. Or, you can email him at 
bareoaksmassage@gmail.com
Elena is not an RMT but she runs the Bare Day Spa. It offers a variety of services: Swedish massage and Tuina – Chinese deep pressure massage for $50/hour (no insurance receipts), Mini Facial for $60, and other services. You can visit her website here. Call or text Elena at 416-464-3834 to book appointment or come in person.
Disclaimer: The services are provided by independent individuals. Bare Oaks Family Naturist Park only coordinates the arrangement for massage services and is not responsible for the service provided.