Yoga was developed a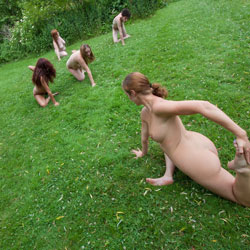 s a way to achieve physical, mental, and spiritual balance which is completely in harmony with naturism. The best way to practice it is in your natural state free of the restrictions and distractions of clothing.
We are pleased to announce two new instructors to lead you in yoga, meditation, and belly dancing: Sharamine Clarke and Samantha Novak. Sharamine is a long-term year-round Bare Oaks member, a certified yoga instructor, belly dancing teacher, and drum circle leader. Samantha is a certified yoga teacher from the United States who has recently moved to Ontario and is looking for an audience of interested parties who want to share her passion for yoga.
Please contact the office or visit the events page
Samantha Novak
"When you succeed in awakening the Kundalini, so that it starts to move out of its mere potentiality, you necessarily start a world which is totally different from our world. It is the world of eternity" ~ Carl Jung
Choose to change your life.
Winter Schedule
Every other Sunday afternoon
Class at 1pm
$10 per class
Show up or sign up by email at  northernphoenixyoga@yahoo.com
www.facebook.com/SamanthaKundaliniYoga
April 8th
April 22nd
May 6th
May 20th
June 3rd
Kundalini Yoga is the 'mystical' form of yoga, as its goal is to raise the Kundalini, known as the 'coiled one' or Serpent of Energy that lays dormant at the base of the spine. This energy is known to contain the potential of human genius if aroused and awakened. We do this through a set of kriyas, mantras, mudras and the Breath of Fire to open the chakras along the spine so there is an open path for the Kundalini to awaken and rise. Practicing the Breath of Fire forcefully expels deeply buried toxins in the body into the elimination systems so they can be released. The effects of this kind of yoga are felt strongly and immediately, making it an effective workout for the entire body, especially the lungs.
Sharamine Clarke
Let your Body be the most beautiful thing you wear.
Hatha Yoga for
all levels
all ages
modified poses available
Join me for a Nude Hatha Yoga experience.
Saturdays 11:30 -12:30 (August 5, 12, 19, 26, and September 2)
As an additional bonus beginners Inspirational Belly Dancing classes for free 12:30 to 1:00
$10 dollars Non-members (per family)
$5 dollars Members (per family)
This is only a guide if you can afford it, but please only pay what you can.
A donation box will be used for payment.
The money collected with be used for other events in the park that I hope to have.
Yoga and dance are gifts to the world that I would like to share.

Please contact the office before attending to confirm availability as well as the time and date. Non-members must also register in the office before closing time. (which is 6pm on most days)

Disclaimer: The yoga classes are provided by an independent individual. Bare Oaks Family Naturist Park only coordinates the arrangement and is not responsible for the service provided.