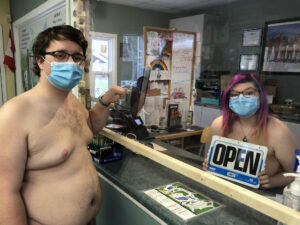 Current Conditions
(last update June 15)
As soon as government regulations allow us to open a service or an amenity, we are adding it and updating this page. Of course we are always doing so while taking into consideration the safety of members, visitors, and staff. As such, some of our procedures have been altered. Please see below for details.
For instant updates, follow Bare Oaks Status on Twitter.
Day Visits
Members and visitors are allowed to visit for the day
The office and store are open
Outdoor picnic sites, benches, shelters, trails, and recreational areas are available for use
Sport activity for "individual/single competitors" such as outdoor table tennis, horseshoes, minigolf, and pétanque are allowed. But no team or contact sports.
We are operating normal hours (9am-7pm Sun to Thu, 9am to 9pm Fri, Sat)
The Bare Bistro is open from 10am to 6pm for takeout and the patio is open for eat-in effective Friday June 19th. You can also eat your takeout on the picnic tables in the park. Alcohol is only allowed on the Bare Bistro patio or on your campsite/room/cabin as per provincial law.
The playground is closed by government order
The pool will open on Friday June 19th unless we do not get authorization from the York Region Health Unit. You can also use the lake at your own risk.
Indoor facilities are restricted to the use of toilets.
Masks must be worn when entering the clubhouse to use the toilets since physical distancing is not possible.
Overnight
Leisure visits for motel rooms or cabins are allowed. All camping is allowed effective Friday June 19th.
Toilets in the campground are available effective June 19th but the showers inside the comfort station are closed as per government regulation 263/20.
Members with a trailer on a long-term campsite are allowed to camp overnight as per the Ontario government regulation 82/20.
If you make a reservation and we have to cancel it because of government restrictions, we will give you a full refund. If you cancel the reservation then our normal cancellation policy still applies.
General Information
Gatherings are now restricted to 10 people or less as of June 12
Physical distancing of at least 2 metres is required
In situations where physical distancing is not possible, you need to wear a mask
You should wash your hands frequently with soap and water. An alcohol-based sanitizer will be available in the office.
If you are sick, you should stay home
If you have recently been exposed to someone who is sick, you should stay home
If you are in any way vulnerable to the virus, you should stay home
Some of Our Safety Procedures
A screen has been installed in the office at the front desk
Team members must wear a face mask or a face shield when there is a risk of coming too close to others
Anyone preparing food or handling food must wear a face mask or face shield
Procedures have been implemented to limit the number of people in the store and office
We have always cleaned the public areas regularly. But we have added the additional step of disinfecting "touch" areas (door knobs, locks, counters, handrails, etc…) three times per day.
Sick team members are always encouraged to stay home but we are now more proactive about it. We pay them to stay home while they are sick.
We have provided additional training for all team members and continue to do so.
We have always had hand sanitizer available but we now have it in more locations.