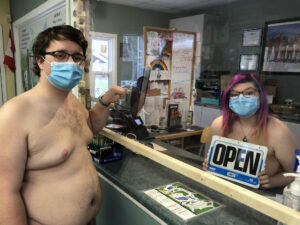 Current Conditions
Last update June 7
Updates are only made if anything changes. (latest updates in blue text)
We are currently in the "before step 1" stage of reopening and will be in "step 1" on Friday, June 11
As soon as government regulations allow us to open a service or an amenity, we are adding it and updating this page. Of course we are always doing so while taking into consideration the safety of members, visitors, and staff. As such, some of our procedures have been altered. Please see below for details.
For instant updates, follow Bare Oaks Status on Twitter.
Day Visits
We are open to members and visitors

The office and store are open.

The clubhouse is only open for toilet and shower use with some capacity restrictions. The toilets at the beach are also open.

We are operating normal summer hours (9am – 7pm Sun-Thu & 9am-9pm Fri-Sat)

Outdoor picnic sites, benches, shelters, trails, and recreational areas are available for use.

No team sports.

The Bare Bistro is

open for patio dining (maximum of 4 people per table, exceptions for larger households)

and take-out.

(since June 11th)

Yoga and Meditation are both in person (outdoor, maximum of 10)

and online.

The playground is open.
The hot tub is closed.

The pool is open. (since June 11th)

Saunas are closed.
Masks must be worn indoors.
Overnight
Members with a long-term campsite can use it for overnight stays.
Short term overnight stays in hotels, cabins, and campsites (both serviced and unserviced tent sites)

are available for everyone. (since June 11)

Reservations are highly recommended.
Toilets in the campground are

open

.
If you make a reservation and we have to cancel it because of government restrictions, we will give you a full refund. If you cancel the reservation then our normal cancellation policy still applies.
General Information
Outdoor gathering is limited to 10 people. (since June 11)

We strongly encourage you to limit it to people within your household.
Physical distancing of at least 2 metres is required.
In situations where physical distancing is not possible, you need to wear a mask. Masks must be worn indoors.
You should wash your hands frequently with soap and water. An alcohol-based sanitizer will be available in the office.
If you are sick, you should stay home.
If you have recently been exposed to someone who is sick, you should stay home.
If you are in any way vulnerable to the virus, you should stay home.

For both your safety and that of others, please get vaccinated if you have not done so already.
Some of Our Safety Procedures
Team members are screened before every shift. Visitors are also asked a screening questionnaire.

Most team members have had their first vaccination and all are tested twice per week.

Signage has been created and posted throughout the park the remind everyone of safety procedures.
A clear barrier has been installed in the office at the front desk.
Team members must wear a face mask or a face shield when there is a risk of coming too close to others.
Anyone preparing food or handling food must wear a face mask or face shield.
Procedures have been implemented to limit the number of people in the store and office.
We have always cleaned the public areas regularly. But we have added the additional step of disinfecting "touch" areas (door knobs, locks, counters, handrails, etc…) three times per day.
Seating capacity indoors has been reduced and tables have been spaced further apart. Outdoor tables have also been spaced further apart.
Sick team members are always encouraged to stay home but we are now more proactive about it. We pay them to stay home while they are sick.
We have provided additional training for all team members and continue to do so.
We have always had hand sanitizer available but we now have it in more locations.