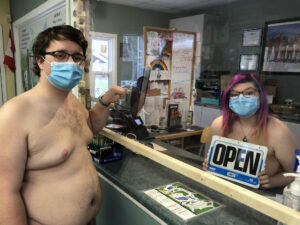 Current Conditions
Last update March 21
Updates are only made if anything changes.
(recent updates in blue text)
As soon as government regulations allow us to open a service or an amenity, we are adding it and updating this page. Of course we are always doing so while taking into consideration the safety of members, visitors, and staff. As such, some of our procedures have been altered. Please see below for details.
For instant updates, follow Bare Oaks Status on Twitter.
Day Visits
We are open to members and visitors
The office and store are open.
The clubhouse is open with a gatherings limited to 50 people. Distancing is required. No vaccine certificate is required.
We are operating normal off-peak hours (10am – 6pm)
Outdoor picnic sites, benches, shelters, trails, and recreational areas are available for use.
The Bare Bistro is open for take-out and indoor dining at full capacity.
Yoga and Meditation are only online.
The playground is open.
The hot tub is open with capacity limits.
The pool is closed for the season.
Saunas are open with capacity limits.

Masks are optional. Please respect each person's choice.
Overnight
Members with a long-term campsite can use it for overnight stays.
Short term overnight stays in cabins, guest rooms, and campsites are available for everyone. Reservations are highly recommended.
Toilets in the campground are closed for the season.
If you make a reservation and we have to cancel it because of government restrictions, we will give you a full refund. If you cancel the reservation then our normal cancellation policy still applies.
General Information
Both indoor and outdoor gatherings are allowed to a maximum of 50 indoors and 100 outdoors.
Physical distancing of at least 2 metres is required.

Masks are optional. Please respect each person's choice.

You should wash your hands frequently with soap and water. An alcohol-based sanitizer will be available in the office.
If you are sick, you should stay home.
If you have recently been exposed to someone who is sick, you should stay home.
If you are in any way vulnerable to the virus, you should stay home.
For both your safety and that of others, please get vaccinated if you have not done so already.
Some of Our Safety Procedures
Team members are screened before every shift.
Our team members have had their vaccinations and all are tested twice per week.
Signage has been created and posted throughout the park the remind everyone of safety procedures.
A clear barrier has been installed in the office at the front desk.
Procedures have been implemented to limit the number of people in the store and office.
We have always cleaned the public areas regularly. But we have added the additional step of disinfecting "touch" areas (door knobs, locks, counters, handrails, etc…)
Sick team members are always encouraged to stay home but we are now more proactive about it. We pay them to stay home while they are sick.
We have provided additional training for all team members and continue to do so.
We have always had hand sanitizer available but we now have it in more locations.