Glen Echo Family Nudist Park was the home of the Toronto Gymnosophical Society (TGS)
1955 – 2009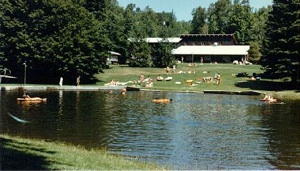 Glen Echo Park was the name of the property north of Toronto that hosted the Toronto Gymnosophical Society (TGS). The group had been without a permanent location until Eddy and Mary Todorowsky purchased the 100 acre property on their behalf in 1955. Initially, the Todorowskys developed and managed the land and facilities while TGS collected fees, paid Glen Echo Park for use, organized events and promoted the club. In 1967, the Todorowskys took over TGS and assumed control of all facets of the club. When it closed, Glen Echo featured a 10,000-square-foot (930 m2) clubhouse with indoor pool, sauna, whirlpool, snack bar and recreation space. The park also had a swimming pond, an outdoor children's swimming pool, a playground, two tennis courts, two beach volleyball courts, a pétanque court, a five-unit motel, a washroom/shower area and a number of unserviced campsites.
See pictures of Glen Echo from September 2009; just a few weeks prior to its close. www.flickr.com/GlenEcho
In a letter dated August 21st, Mary and Edward Todorowsky announced that the park would be closed effective October 1st, 2009. This came as quite a shock to the membership since it was always understood that the park would be sold to someone who would maintain the land as a nudist club. A 1962 agreement to that effect was signed between the members and the Todorowskys. Further commitments to that effect were repeated in both verbal and written communications over the years. After the Todorowskys formally indicated that they were looking to sell in their 2005 newsletter, several offers were made by various parties in the community. A few were even accepted but for reasons that were never clear, the Todorowskys never concluded any of them. Consequently, the August 2009 announcement of the sale and closure came as quite a surprise. Given only a month's notice, many members felt betrayed. Some had significant investments in elaborate cabins that could not easily be moved. As a result, some of them contested the sale using various legal methods. While they has some initial successes, they ultimately failed.
Former location: 43°58'05.5″N 79°37'12.8″W (43.968202, -79.620209)
---
From the Federation of Canadian Naturist Library:
---
Excerpt on Glen Echo from:
Au Naturel: The History of Nudism in Canada
James Woycke, Ph.D.
ISBN 0-9682332-3-6
Pages 113 – 116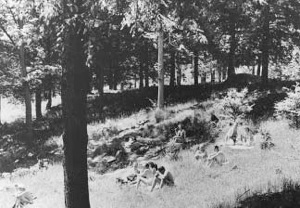 Glen Echo, also known as Toronto Gymnosophical Society, emerged from the residue of Sunglades members left after their president absconded with the assets in 1953. Old magazine listings continued to bring in new applicants, mostly British and German immigrants, who joined with the remaining Sungladers on 28 February 1954 to form the Toronto Gymnosophical Society as a new beginning. Eight couples and two singles attended the first TGS meeting, which elected the first executive board.
There now commenced an agonizingly long search for land. The on-again, off-again efforts discouraged many members who either dropped out or moved closer to the Niagara club, which offered generous terms to the Toronto group until it could find land. A few were briefly tempted to join Count Eberhard, a German immigrant and engineer who launched his own trial balloon, the Sunshine Club, but soon ran out of hot air.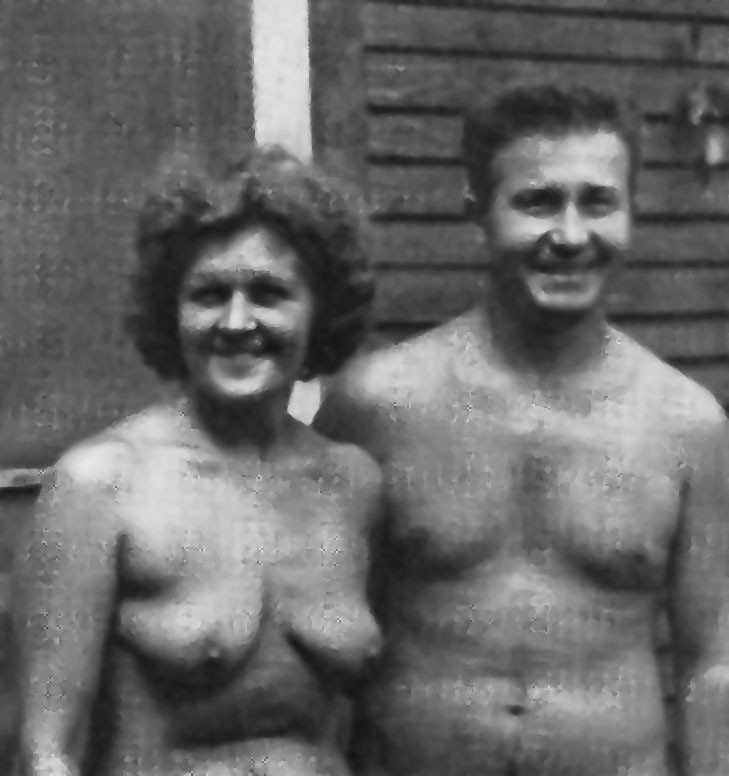 Then a small miracle happened. While the TGS executive was negotiating futilely with a variety of farmers and real estate agents, another member couple, Eddy and Mary Todorowsky, was quietly and systematically conducting their own search for land. Although both came from Saskatchewan, they had met in Toronto and had visited local beaches for clandestine skinny-dips. They married in 1949, and while they were on honeymoon at Wasaga Beach, Eddy spotted Sunbathing for Health on a newsstand (it was still not available in Toronto) and this introduced him to organized nudism. They later joined the Toronto club.
In 1954 the Todorowskys visited several American clubs, and this whetted their desire for a club in Toronto. In June 1955 they targeted a 100 acre tract of woodland due north of Toronto, and drove out to inspect the site on the July holiday. Although they had started by searching for their own family farm, the "peace and quietness in this valley" so entranced them that Eddy agreed to make it available for club use. Todorowsky took possession of the land two weeks later, and Glen Echo was born.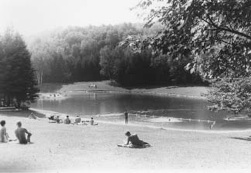 On 11 September 1955, fifteen families and five single members gathered at Glen Echo to hold the first General Meeting in their new home. Everyone could see the potential of the abandoned lumber camp, with its central valley and weed-infested creek gurgling somewhere under the brush, all surrounded by wooded hills. The club secretary, Bill, recognized the site after his own explorations. "Eddy, by devoted labor, had brush cleared and grass mowed, so that we were able to drive right in, to a lovely parkland rolling down to the creek" (which had been uncovered at last). At the meeting, owners and members agreed on the "plan of operation" and the "scheme for progressive development."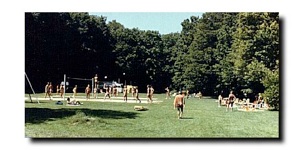 Briefly, it was understood that Eddy and Mary owned the land and were responsible for all development there. In return for making this land available as "a beautiful and permanent place for nudism," TGS agreed to remit all membership and ground fees, other than modest office expenses, to the landowners, who were also entitled to all cabin and campsite rents. Because of the demands on all members to help develop the club, this "understanding" was not formalized in a written agreement until 1962.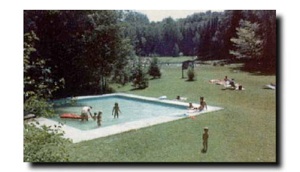 The centerpiece of the camp was a large pool created by bull- dozing the river bed and damming the water to create a pond 200 feet long and 4 feet deep. The first pool was ready by 1956, then enlarged in 1958 and again two years later on a grander scale, becoming the two-acre Lake Echo, complete with its own little island. By this time the club also had a children's wading pool. Further amenities included volleyball courts, washrooms and showers, and motel units. TGS maintained members' interest during the long winter months by hosting social events such as pot luck dinners, parties, and dances in members' homes or in rented halls, and by arranging indoor recreation activities like swimming in a rooftop pool in downtown Toronto and volleyball at the Oakville-Trafalgar High School.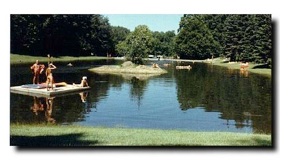 By 1960 the effort to improve the grounds had largely succeeded. Glen Echo was well established as a campground, but TGS board members lacked the determination to push for further development at a time when a new generation of full-service resort clubs made its appearance in the United States and Canada. "While there is still much to be done, the general appearance and amenities are now thoroughly satisfactory and this drive has been lost."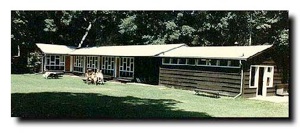 The reluctance of TGS to increase fees or membership numbers meant that efforts by the owner-manager to undertake developments and improvements werefinanced on a hand-to-mouth basis. At the annual general meeting on 17 July 1967, Eddy informed members that "Glen Echo is not paying its way," and asked for full control over club operations: in other words, a straightforward proprietary operation, without the awkward intermediary of a "society" whose executive lacked a stake in the camp. The written agreement between the owner and TGS, signed only five years earlier, could be terminated at any time by mutual consent (Article 12), and members "agreed to this in a free vote."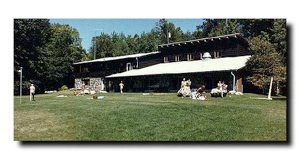 This decision and the subsequent fee increase allowed Todorowsky to begin a new phase of construction, starting with the all-year clubhouse in 1973. The central feature was a 25-by-50 foot heated indoor swimming pool, accompanied by sauna, whirlpool, and indoor washrooms. Upstairs he installed a large lounge with pool and ping-pong tables, snack bar, and office space. In 1979 a visiting ASA officer wrote that "TGS was a beautiful club and a real nudist atmosphere," and so it has remained, as a Toronto Sun reporter found in 1995, on the fortieth anniversary of Glen Echo.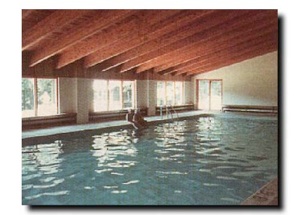 Everywhere you turn on this breathtakingly beautiful 100 acre paradise are bronzed, healthy, naked people. Young and old, supple or chunky, male and female, they all carry on in their favorite summer activities au naturel and, seemingly, without a care in the world.
Over the years several short-lived clubs spun off from Glen Echo because of the resistance of other individualists to a determined proprietor and the desire to be their own boss and run a club their own way. The Society of Health (Bolton), Toronto Health and Sun Club (Sandford), and Cedar Valley (Orono) all came and went. The only successful breakaway club was Toronto Helios, near Sharon north of Newmarket, but after 15 years it too turned textile. (The campground has now returned to nudism under new management as Bare Oaks Family Naturist Park.)