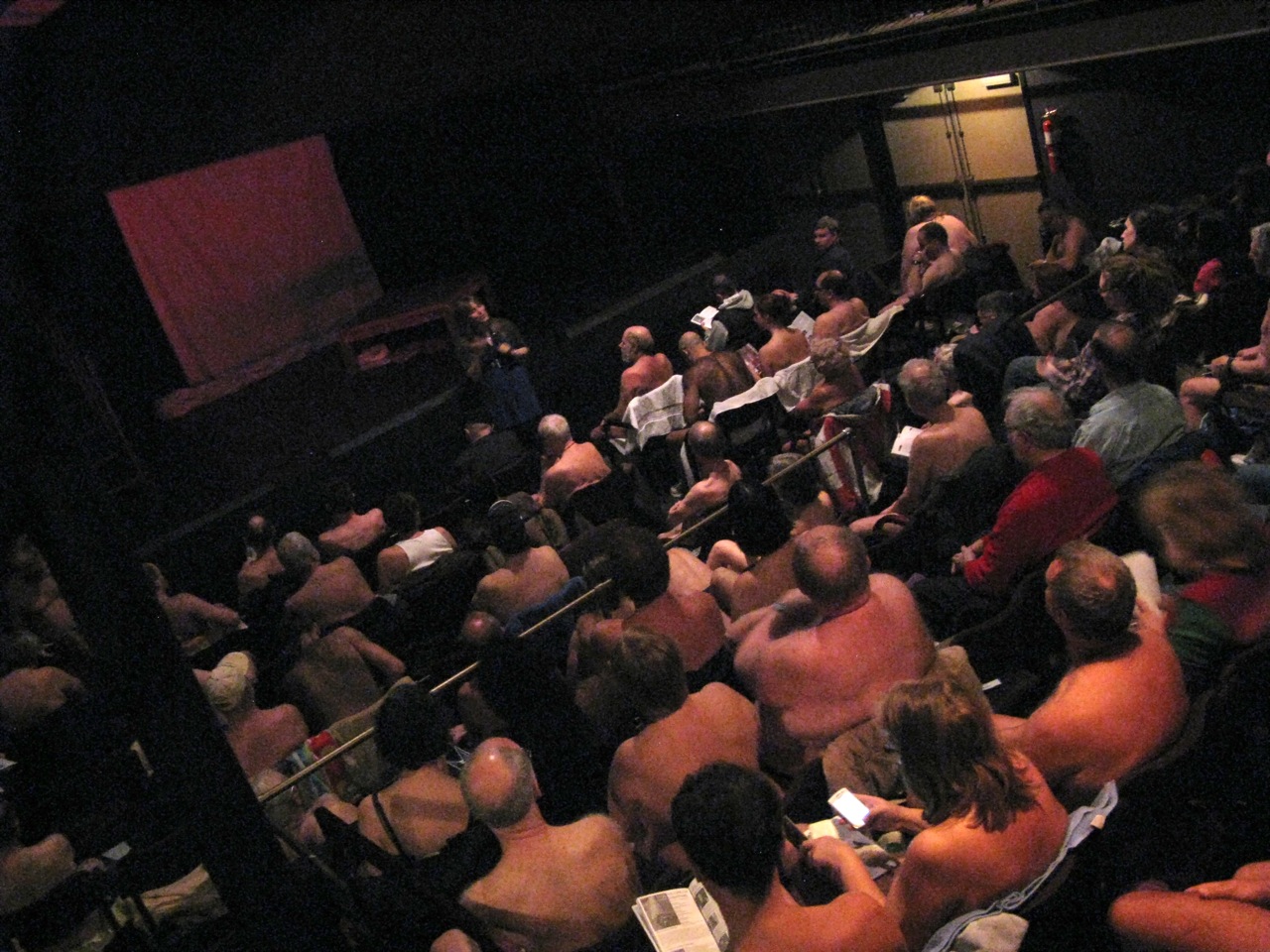 On the penultimate day of Toronto's Fashion Week, the fashionable thing to wear to the Theatre Passe Muraille was your birthday suit.
Thursday night's clothing-optional performance was a great success with a near-capacity audience of 133. The majority of crowd enjoyed the show clothes-free. Maev Beaty and Erin Shields, the performers and co-creators of the production who spend most of the show nude on stage, also enjoyed the event. After the show, they both commented that it "felt like a special event" and that they were "very excited for this performance." Erin added that "it was just wonderful… just people really generous… sitting there… enjoying the show… naked!" They were interviewed for the May episode of the Naturist Living Show and an upcoming article in Going Natural Magazine.
The show itself was excellent. Montparnasse has generally received good reviews.J. Kelly Nestruck of the Globe and Mail commented that "Montparnasse's chief pleasure comes from the well-honed stage chemistry between Beaty and Shields". The Torontoist said that the production "is an effective showcase for its two versatile performers, full of witty writing and beautiful moments, and to be commended for its attention to detail, both historical and topical." In Now Toronto, Glenn Sumi concluded that "the chief reason for visiting this Montparnasse, however, are the two actors, who slip into and out of their colourful characters as quickly, comfortably and confidently as they doff their clothes."
Unfortunately, the show only runs for about two weeks. Saturday April 2nd is the last performance.
The Globe and Mail published an article about this particular "theatre in the buff" performance where J. Kelly Nestruck commented that it was the first time he had "heard of a theatre inviting naturists to a special performance and – while I'm not entirely sure of the legality of it – why the heck not?"