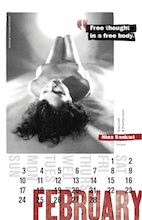 On International Women's Day 2012 (March 8) a group of women launched The Nude Photo Revolutionaries Calendar in support of Aliaa Magda Elmahdy.
In October 2011, Elmahdy, a 20-year old Egyptian university student, posted a full-length nude photo of herself on her blog in a protest against free-expression and her society's attitude towards women.
The reaction was, not surprisingly, intense and polarizing. Elmahdy's blog received millions of visits. She became the target of enumerable death threats. But she also received extensive support from individuals and women's rights groups including a group of Iranian women and men who risked death by posing nude with slogans against Islamic rule.
The calendar project is the brainchild of Maryam Namazie. On her blog she explains that "with Islamism and the religious right being obsessed with women's bodies and demanding that we be veiled, bound, and gagged, nudity breaks taboos and is an important form of resistance." The calendar was designed by Toronto's Sonya JF Barnett who co-founded SlutWalk. (a movement that has since expanded worldwide)
The other women featured in the calendar are mother and daughter Anne Baker and Poppy Wilson St James, teacher Luisa Batista, We are Atheism Founder Amanda Brown, atheist bloggers Greta Christina and Emily Dietle, FEMEN activist Alena Magelat, photographer Mallorie Nasrallah, actress Cleo Powell, freethinker Nina Sankari , writer Saskia Vogel, and mother Maja Wolna.
To purchase a copy of the Nude Photo Revolutionary Calendar via Paypal, click below. Your support is important. BUY A CALENDAR TODAY! Proceeds will go towards supporting women's rights and free expression.
Note: Because some websites like Facebook would censor this blog if we showed full pictures of nudity, none of the images referenced are shown. However, if you follow the links, you can see all the original photos.