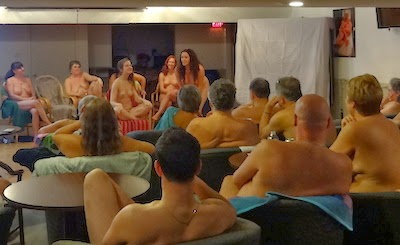 The Bare Oaks Players are very active this season! They've been expanding the stage, getting sound and lighting equipment, and rehearsing a number of plays:
"Tiffany and The Genie"
Written by Jeffrey Fiske, inspired by "The Fisherman and The Genie"
From Tales of 1001 Arabian nights.
Friday July 17th, 2015 @ 8:00pm, Saturday July 18th, 2015 @ 11:00am, and Saturday July 18th, 2015 @ 4:00pm
FREE ADMISSION
Playbill One:
"As night to the Day"
By Dan Ebbs
Forty-year-old Michael returns home to help his mother who is struggling with memory loss. Over the course of a morning, Michael sees her through the eyes of another and learns that there's a side to her he didn't know.
"The Death of Me"
By Norm Foster
John dies unexpectedly, only to discover that his bucket list in life is a rolodex of missed opportunities. Perhaps he can get a second chance? This theatrical gem of a comedy is written by Canada's most prolific and produced playwrights.
Saturday July 25th, 2015 @ 8:00pm, Saturday August 1st, 2015 @ 8:00pm, Saturday August 15th, 2015 @ 7:30pm, and Saturday August 15th, 2015 @ 9:15pm (if required)
TICKETS: $10/person
Ticket reservations can now be made using email bop@bareoaks.ca
Playbill Two:
"10,000 Cigarettes"
Written by Alex Broun
How many cigarettes is enough – 1, 2, 3 . . . 10,000? Four sisters face big questions in this fast paced, imaginative, funny and moving play.
"Upton Manor"
Written by Dave Amor
English aristocrats find themselves suddenly penniless and facing eviction from their ancestral home. Enter a Canadian entrepreneur who gives them hope.
Saturday August 22nd, 2015 @ 8:00pm, Saturday August 29th, 2015 @ 8:00pm, Sunday September 6th, 2015 @ 7:30pm, and Sunday September 6th, 2015 @ 9:15pm (if required)
TICKETS: $10/person
Ticket reservations can now be made using email bop@bareoaks.ca
TICKETS FOR THE SEASON:
If you want to reserve for both Playbill One and Playbill Two, you can: $17.50/person
Ticket reservations can now be made using email bop@bareoaks.ca