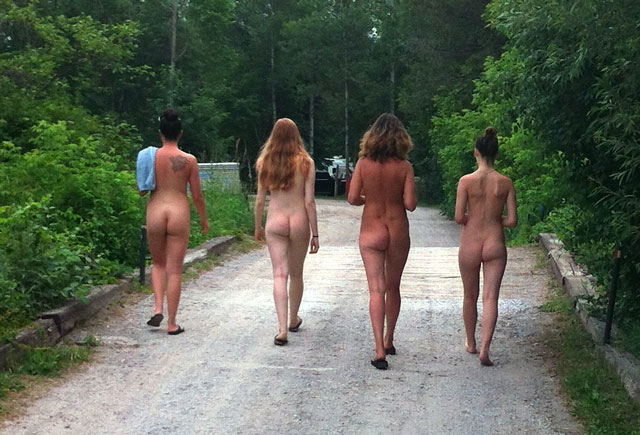 Dear Anonymous,
Since you didn't leave any contact information, this is the only way we can respond to your concerns.
Thank you for contacting Bare Oaks Family Naturist Park. We do appreciate receiving both compliments and complaints.
We are sorry that you were dissatisfied because either you or someone else in your party (you are not clear in your letter about who was affected) were not allowed to walk around clothed. As you correctly pointed out, we did have a clothing-optional area during our volleyball tournament but you also found that option to be disagreeable. You should be aware that this is an unusual compromise that is made only for the volleyball tournaments so a visit at other times would be even more disappointing to you.
Frankly, we are confused why anyone would want to come to Bare Oaks Family Naturist Park to keep their clothing on. With 99.9999% of Canada requiring some level of coverage at all times, there doesn't seem to be any lack of option for the textile-obsessed. And our dedication to authentic naturism is well-published so it should not have come as a surprise.
You write that our policy has led to "lost revenue". But we believe that it is precisely because of our uncompromising commitment to naturist values that we have been so successful. As Aesop, the ancient Greek author, said: "Please all, and you will please none." To give you a more current example, if you offer hamburgers in your vegetarian restaurant, you will not likely satisfy the carnivore but you will definitely alienate the vegetarian.
Ironically, naturism is not about nudity. It is a life philosophy with physical, psychological, environmental, social and moral benefits. But nudity is a key tool used to achieve naturism's goals of self-acceptance, respect for others, and living a more natural life.
Since you sent us a paper letter we recognize you may not be comfortable with using the internet. As such, you might be reading this on the bulletin board near the office. There is a brochure available in the office that explains why unmitigated nudity is important. But if you have access to the internet, you can also read the web version.
We are truly sorry that you did not enjoy your experience at Bare Oaks Family Naturist Park. We are always disappointed whenever a person is not as enamoured with naturism as we are. But we will not consider a clothing-optional policy as our righteous approach to naturist values is key to our success. We are encouraged by the fact that we get far more compliments than complaints; such as this email from a few of days ago. (edited for privacy reasons)
My wife and I have been to many naturist and nudist parks over the past 20+ years, and in the last 5 or so with our children, after having taken a few years off being busy with life. Yours has by far exceeded my expectations in the atmosphere, philosophy, location/amenities, cleanliness, friendliness and overall experience. [My child] was very happy that there were other kids [his/her] age there to play with and hang out, and, as a parent, I appreciated the very safe environment which your park provides.
Your staff was the best of any resort/hotel/park we have ever visited, naturist or textile. I have yet to stay at a place where people are friendlier and genuinely care about the guests and members having a good time and being comfortable. As one example, when [my child] and I were loading up our car to head home, one of your young maintenance men, and I am sorry but I cannot recall his name, but he looked to be about 17 or 18, stopped while he was driving by and asked how we had enjoyed our stay. He then apologized for having been so busy and not having been able to spend more time talking with us throughout our stay. That is true dedication to providing a great experience. Another example was how well your other younger people, [young woman #1] and [young woman #2] organized the children's' activities and ensured everyone, young and old, had a good time and that [my child], being new to your park, felt very welcomed.