Employment Opportunities at Bare Oaks Family Naturist Park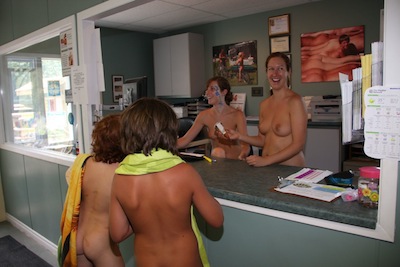 Our team members are fundamental to the extraordinary experience we offer. Each year, we seek remarkable individuals to make up our team. We offer flexible hours in jobs that are either:
Full-time seasonal
Part-time seasonal
Full-time permanent
Seasonal employment begins as early as March and can go as late as October. However, our busiest time is July and August which is when we have the most team members.
We regularly hire people of all ages from high school students to retirees. We make a special effort to support people who are in school studying.
While we generally finalize the majority of our hiring decisions in January-February, opportunities do occur throughout the year.
Please read this entire page to understand how to apply.
Working at Bare Oaks Family Naturist Park: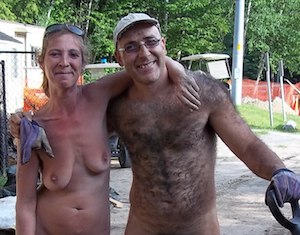 Working at Bare Oaks Family Naturist Park is not just a job – it is a unique experience of self-discovery in an exceptional atmosphere. There is also great satisfaction in witnessing the joy that our members and visitors feel as they revel in a place devoid of the over-sexualization, beauty myth, and artificiality of the mainstream world. Many past team members have found their experience to be life-altering.
At Bare Oaks naturism is more than just taking your clothes off. It is a life philosophy with physical, psychological, environmental, social and moral benefits. We try to live a naturist life and nudity is key to body acceptance and an integral part of our naturist philosophy. As such, we are not clothing-optional. Clothing is worn only for protection. We give visitors a chance to adjust but everyone is expected make a decision as to whether they want to be naturists or not. Similarly, those who work at Bare Oaks are expected to only wear clothing when it is absolutely necessary for protection.
There is much more information about naturism and Bare Oaks Family Naturist Park on this website. If you are new to naturism, you will be interested in our First Time page. For more information about the facility, please review our Amenities page. You should also review our Member and Visitor Agreement to better understand our policies and regulations. You can also take a Google Streetview 360° tour.
Job Description:
Duties:
Most jobs are support positions during the busy spring/summer season. Actual responsibilities will vary depending on abilities and the park's requirements. The work is likely to include a wide variety of roles. Responsibilities could include: client service, hospitality, foodservice, office support, maintenance, construction, nature conservancy and landscaping. As a recreational facility, the work hours will include weekends and summer holidays.
Required Skill Set:
Comfort with seeing natural, clothing-free human bodies of any age, gender, colour, shape and size.
Capacity to be clothing-free in a social setting
Strong interpersonal skills
Ability to take the initiative to see a task through to successful completion with a minimum of supervision
Desire to learn in a fast paced environment
Aptitude for working well with others in a team environment
Passion for the naturist philosophy would definitely be an asset.
Work Permit (non-Canadian or non-resident)
Please note that before we consider you for a job, you must be legally entitled to work in Canada. That means you are either a citizen, permanent resident, or you have a work permit. We are not able to help you get a work permit. The types of jobs that we have do not generate a positive Labour Market Impact Assessment (LMIA) for a work permit. So if you need a work permit, you must get it yourself. Depending on your age, you may qualify for the EIC program outlined below.
---
International Youth
The government of Canada has a program called called International Experience Canada (EIC) which makes it easy for youth (18-35) to obtain a work permit. Under this program, residents of some countries may qualify for one of the following employment opportunities: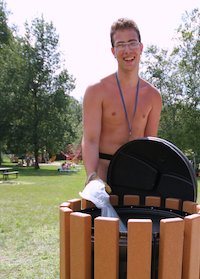 – Internship
Dates: early May to mid September (negotiable)
Hours: 35 hours per week
Remuneration: Round-trip airline ticket from a major airport, membership, shared accommodations, $200/month in spending money
This position is designed to give experience to students in the hospitality, restaurant, and tourism sectors. While the job will benefit Bare Oaks Family Naturist Park, it will also provide you with exceptional hands on experience working in the client services field as well as providing an understanding of general business & office procedures. Some of the more specific skill sets that will be developed are organizational, interpersonal, administrative and communication skills.
– Working Holiday
Dates: negotiable
Hours: negotiable
Remuneration: hourly pay, membership
This position is designed for individuals who want to visit Canada and earn some money while they travel.
– Student Summer Job
Dates: May 1 until after Labour Day (negotiable)
Hours: variable – 20-40 hours/week
Remuneration: hourly pay, membership, shared accommodations
This position is the typical summer summer job.
---
Location:
Bare Oaks Family Naturist Park is located in the countryside in East Gwillimbury. The nearest sizable town is Newmarket approximately 35 km north of Toronto. For more details, visit the Contact section of this website.
Accommodations:
Team members who want to stay overnight between shifts are provided with shared accommodations, kitchen, and lounge; and also have full access to all facilities and amenities during their free time.
How to Apply:
If we currently have open positions, they will be posted on our Indeed page.
If you have any questions, you can contact us at: summerjobs@BareOaks.ca
---
Testimonials

Marissa: Working at Bare Oaks has been an incredible experience. When I got the job I barely knew what naturism was, but it turned out to be one of the best experiences of my life. My fellow coworkers were some of the most kind hearted and genuine people I have ever met. Living and working at Bare Oaks for just four months taught me more about myself and the world around me than I have learnt in 20 years.

Tony: As my first year working at Bear Oaks, I couldn't believe how quickly I became comfortable working in a naturist environment. The team we had this year quickly became my second family. The work is hard at times, but with the respect and acceptance we received from the members that stay at this home away from home, makes working here a enjoyable experience. Looking forward to seeing my new friends and family next year.

Madison: Bare Oaks is a truly positive, accepting, and rewarding place to work…as well as being really fun! As part of a stellar team I grew both personally and professionally and saw the difference my work made in the park and the naturist community. I got the opportunity to accomplish and contribute a lot, all while enjoying a beautiful sunny summer close to nature.

Sabina: Working at Bare Oaks is no ordinary job. You are working with a group of people who are talented, passionate and caring. You do not just go to work; you enter an environment where you are valued for being yourself and challenged to be the best you can be. You are learning constantly, but don't worry, there is lots of support every step of the way. Working in a dynamic environment, each and every day is different. Some of my best friends are coworkers. You are given lots of opportunity as staff to spend time outside of work together if you wish, from movie nights to board games. I went to Bare Oaks because it was a job; I stayed because it was an opportunity to grow.

Matt: Working at Bare Oaks has been a great experience. Everybody is incredibly friendly, the atmosphere is relaxing, and I feel my work and input are valued.

Andrea and Ben: We spent four months living and working at Bare Oaks. It was our first time being fully immersed in a naturist environment outside of our home and an experience we consider ourselves very fortunate to have had. The staff treated us as family the moment we arrived and I found working in the office to be filled with meaningful interactions. There's something unforgettable about seeing a new naturist spend the day and leave a member. Living at Bare Oaks was the icing on the cake; spending time around a bonfire on a Friday night, playing board games when it's raining, or a taking a swim out to the dock. What could be better?

Kathryn: Working at Bare Oaks was an incredible opportunity that I was very lucky to have had. It was my first job. So far, nothing can compare. It is the job I compare all others too. My co-workers always challenged me and supported me in being the best that I could be. As I was a high school student at the time, I enjoyed the opportunity to live away from home in an environment that was safe. There was always someone watching out for my well being, which was reassuring. Working at Bare Oaks was a great experience for me and I would recommend it to anyone!

Jordan: When I first arrived at Bare Oaks to visit Kathryn, it was the beginning of the summer. I was very unsure of the whole experience, I didn't even want to get out of the car. I was new to naturism and didn't really know what to think of it. I was not planning on staying at the park for long but I ended up not leaving until the end of the summer. Living at Bare Oaks and having the opportunity to work outside all summer, in a naturist environment, was a challenging, rewarding and freeing experience.

Kim: After being a long time member of Bare Oaks, I am now in my second year of working for this amazing Naturist resort. It is the most accepting place to work. Body acceptance and gender acceptance mean a lot to me and Bare Oaks offers this and so much more. Where can you work and be your true self? Bare Oaks! We are so blessed to have such an incredible place to work.