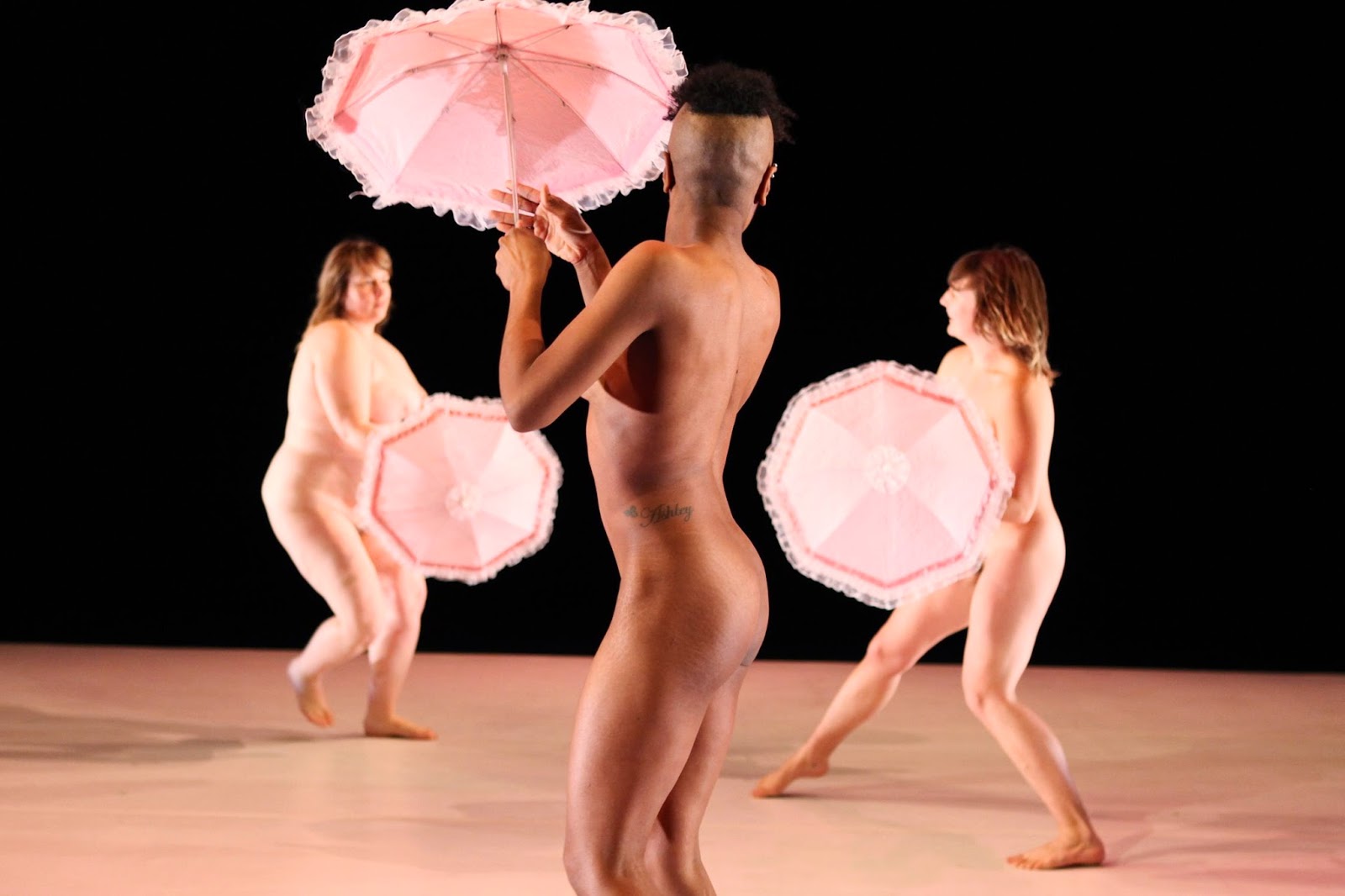 Yesterday, Linda and I attended the premiere of the Untitled Feminist Show at Harbourfront Centre's Fleck Dance Theatre. This play by Brooklyn-based playwright Young Jean Lee is best described by their press release which states "Without dialogue, clothing or traditional gender signifiers on stage, six performers shake up gender norms and confront matters of sameness, differentiation and the seven stages of womanhood in this unconventional and highly adventurous dance-narrative."
The show is getting good reviews. Naomi Skwarna's review in Toronto Life is titled "This all-nude burlesque is the weirdest thing ever to hit the Toronto stage—and the must-see event of the season".
We found the show entertaining, engaging, and thought provoking. At times, the performances we amusing – intentionally. While there was clearly meaning in all of the scenes, it wasn't always clear to us. But as with many artistic renditions, our attempt to interpret and analyze the intent is part of experience. The show was brief (about an hour) but I doubt that the 6 performers could sustain that amount of energy any longer.
Of course, the nudity wasn't jarring at all to us. It only felt odd to be clothed while the performers were nude; it gave me a feeling of being a bit of a voyeur. But other than that, it was what you would expect to see when a performance is done in a naturist setting—a bunch of normal people of all shapes and sizes unconcerned with their bodies and focused on their performance. But of course, it means a lot more to most spectators. As Skwarna says in her review, "The crude nudity is a lightning rod. The actors' soft bellies, bare nipples and pubic hair will provoke and appall respectable theatregoers. But by the end of the show, the nudity is no longer a catalyst. It's a neutralizer, a way to clear the palette of femininity, to lay each idea out and see it for what it very often is—an accessory." That's actually a pretty good summary of why nudity is an important aspect of the naturist philosophy.
But I'm not certain that the performers' nudity was much more than another costume for them. They return at the end for their curtain call fully dressed. It leaves me pondering whether they are able to be comfortable with their natural bodies in the real world. Are they covered prior to their entrance? Do they feel the need to be dressed in the dressing room? Can they find identity off-stage without clothing? Are they as confident nude when they are not performing their role?
The Untitled Feminist Show is well worth seeing. You can analyze it from a feminist perspective. Or look at it through the eyes of all of the textiles who attend and see what it means to be a naturist. Either direction is an interesting intellectual exercise. I recommend catching it before it leaves Toronto.
The show is on every night until Saturday (Feb. 15)
Harbourfront Centre's Fleck Dance Theatre
235 Queens Quay West, Toronto
Tickets are available either by phone +1 416-973-4000
or online at: www.harbourfrontcentre.com/boxoffice/
Untitled Feminist Show Website: www.youngjeanlee.org/feminist
– Stéphane
#artlive @WorldStageTO
Photo: Julieta Cervantes