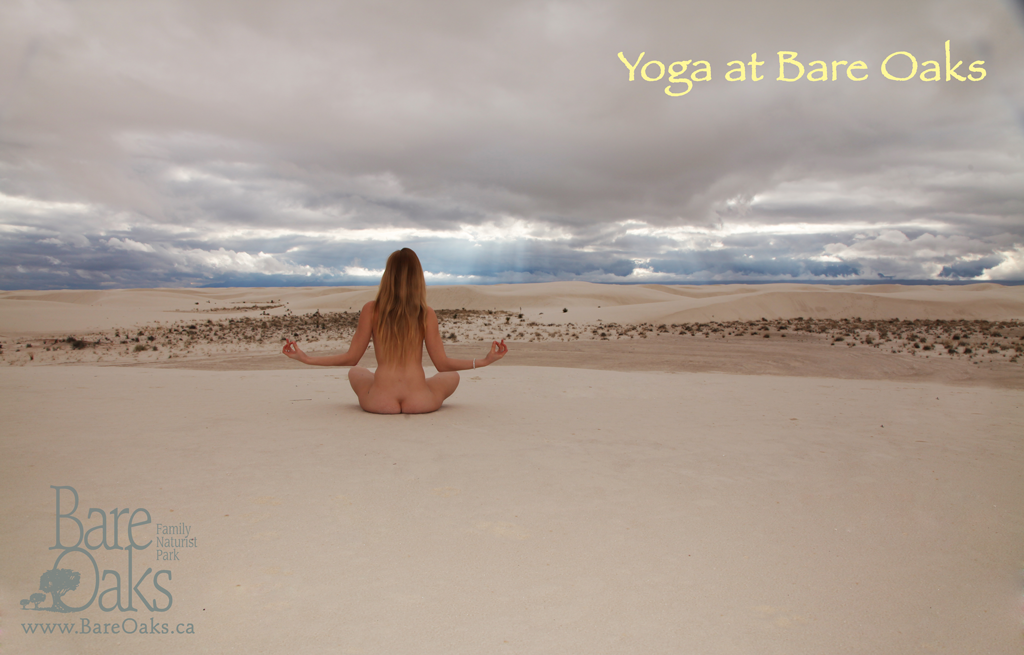 We are pleased to announce two new instructors who are here to lead you in yoga, meditation, and belly dancing: Sharamine Clarke and Samantha Novak. Sharamine, a long-term, year-round Bare Oaks member, is a certified yoga instructor, belly dancing teacher, and drum circle leader. Samantha is a certified Yoga teacher from the United States who has recently moved to Ontario and is looking for an audience of interested parties that are wanting to share her passion for yoga.

Sharamine Clarke
Let your Body be the most beautiful thing you wear.
Hatha Yoga for
all levels
all ages
modified poses available
Join me for a Nude Hatha Yoga experience.
Saturdays 11:30 -12:30 (August 5, 12, 19, 26, and September 2)
As an additional bonus beginners Inspirational belly dancing classes for free 12:30 to 1:00
$10 dollars Non-members (per family)
$5 dollars Members (per family)
This is only a guide if you can afford it, but please only pay what you can.
A donation box will be used for payment.
The money collected with be used for other events in the park that I hope to have.
Yoga and dance are gifts to the world that I would like to share.
Samantha Novak
"When you succeed in awakening the Kundalini, so that it starts to move out of its mere potentiality, you necessarily start a world which is totally different from our world. It is the world of eternity" ~ Carl Jung
Choose to change your life.
Sundays
Meditation at 10 – 10:45 am
Yoga at 11 – 12:30 pm
Classes are $10 each
Yoga/Meditation bundle for $15
Entire course discount at $60
*will discuss trade/barter for those interested but need an alternative payment option
Show up or sign up by email at novasm06@ymail.com
Sunday July 30 ~ Connection
Sunday August 6 ~ Expression
Sunday August 13 ~ Power
Sunday August 27 ~ Love
Sunday Sept 3 ~ Communication
Sunday Sept 10 ~ Intuition
Sunday Sept 24 ~ Divinity
Kundalini (known as the coiled serpent) is a form of primal energy that lays dormant at the base of the spine. Awakening this energy is linked directly to unleashing the creative genius of man. Once the energy is awakened and guided up the spine through the chakras, true transformation occurs. Kundalini Yoga focuses on a technique called "breath of fire" which is the strongest form of detoxifying the body of deeply buried inner toxins.
This course curriculum is for 7 classes, and each class will focus on one of the seven chakras (energy centers) of the body and releasing the accumulated energy within it. Each chakra has a different function in the human body, the description of the courses are the qualities of each of the chakras beginning with the base of the spine in "Connection" and ending at the Crown of the head with "Divinity" as we reach the final spot where our connection to our Highest Self resides.