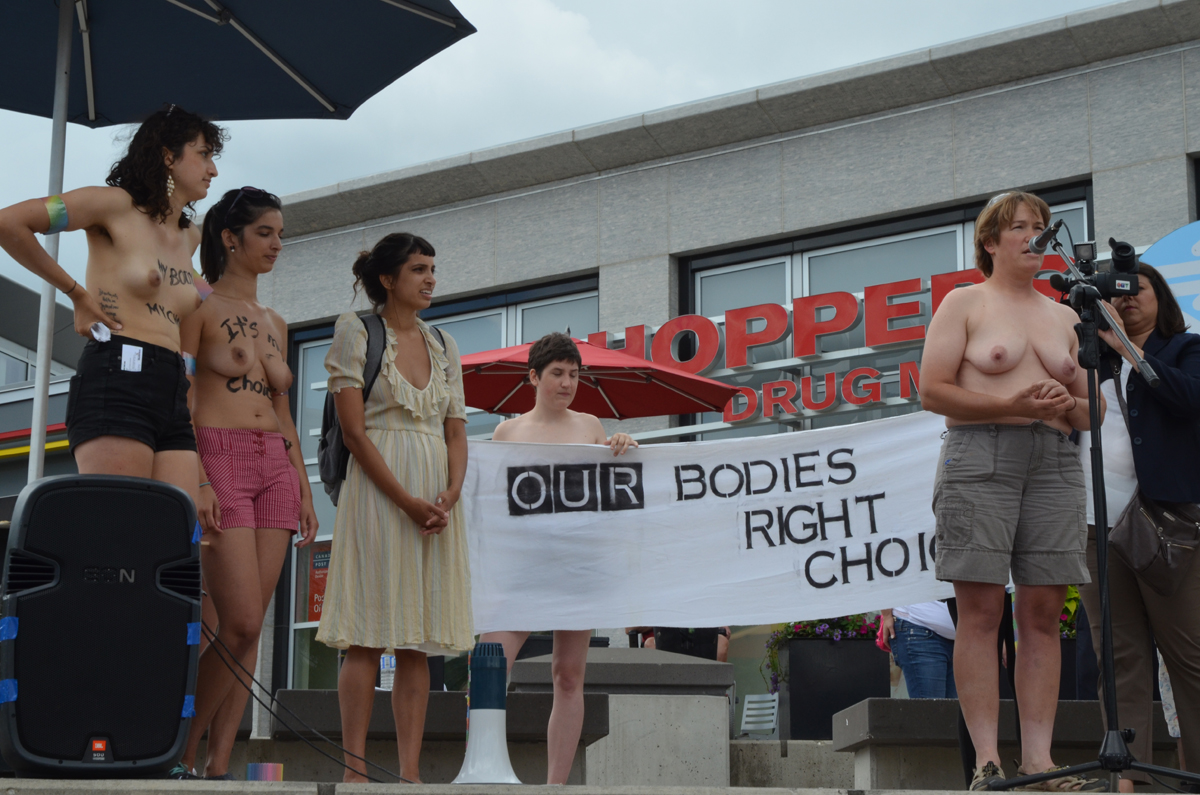 On Friday, it will be 20 years since women won the right to be topfree. On December 9th, 1996, the Ontario Appeal Court reversed the 1991 conviction of Gwen Jacob for indecency making it legal for all women in Ontario to be topfree. Jacob, at the time a university student, had walked bare-breasted through the streets of Guelph in July 1991 in order to protest the inequality of current law.
http://www.canlii.org/en/on/onca/doc/1996/1996canlii1119/1996canlii1119.html
On July 19, 1991, Gwen Jacob took off her shirt and walked home from the University of Guelph. She was charged with committing an indecent act. (Section 173 of the Criminal Code of Canada)
It was actually the second time that she had walked top-free in the City of Guelph during 33C weather. The first stroll only generated puzzled reactions. But on the second day, she ran into more opposition when she stopped to talk on Ontario Street. A Ms. Pettifer called the police after after Gwen Jacob refused her request to cover up. Another resident of that street, Ms. Snarr, expressed concern about the impact that bare breasts would have on her young children. The police asked Gwen Jacob to put on her shirt. They arrested her when she refused and charged her with committing an indecent act.
At the first trial in 1991, Ms. Pettifer testified that bare breasts were "disgusting" while Ms. Snarr said that it is "dirty" for women to expose their breasts. Gwen Jacob was found guilty and fined $75. In 1992, the Ontario Court's General Division upheld the ruling. But on December 9, 1996, the Court of Appeal for Ontario reversed her 1991 conviction and gave all the women of Ontario the right to be topfree.
You can hear Gwen Jacob tell her story on episode 28 of The Naturist Living Show.
Photo: Gwen Jacob, on August 1, 2015, speaking at a Kitchener-Waterloo topfree rally organized by Alysha, Tameera and Nadia Mohamed. Only July 24th, the three sisters had been cycling topfree when they were told by a police officer to cover up because it was the law. That confrontation motivated them to organize this rally, which drew hundreds of people, in order to assert women's right to be topfree.