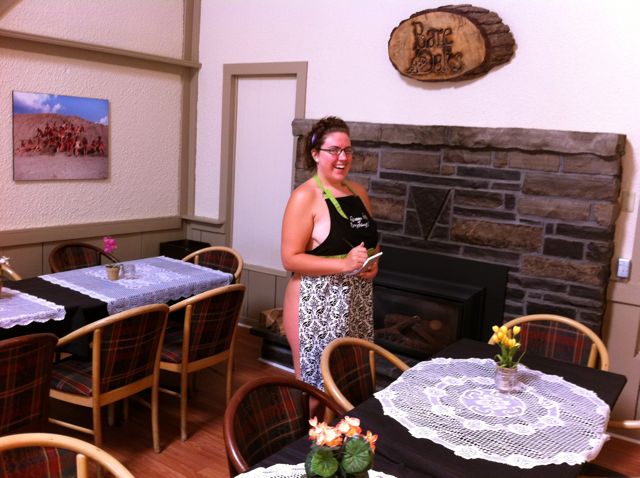 As of the Victoria Day weekend, the Bare Bistro is open 7 days a week again. The weekday host this year is Sabina. (pictured above) Weekday hours are 11 a.m. until 6:30 p.m. except for Friday when they are open until 8 p.m. On weekends and holidays, the Bare Bistro continues to offer extended hours that include breakfast.
As announced last year, Liz has continued to operate the Bare Bistro. Her friendly disposition and passion for quality food is very much appreciated by both members and visitors. As I'm sure you read last year, she even got positive reviews from the Globe and Mail and blogTO.
For this season, Liz has brought in a couple of new quality beer suppliers. Amsterdam Brewery, a Toronto based brewery, is supplying Natural Blonde Lager, Big Wheel (amber), 86 the calories (low calorie, light beer), KLB (Kawartha Lakes Brewing Co.) Raspberry Wheat Beer, and Nut Brown Ale (Smooth Dark Ale). McClelland Premium Imports is supplying a number of imported beers from Belgium and Austria. This includes Affligem Abbey Blond, Duvel, Erdinger Weissbier -Bavarian Wheat ale, Erdinger Weissbier "Dunkel" (Dark), Bavarian Wheat Beer, Fruili (Belgian White Beer and Pure Strawberries), Stiegl (100% barley malt. lager brewed in Austria) and Erdinger (Non-Alcoholic, isotonic drink free of chemical additives, fat & cholesterol, yet still has the distinctive, sparkling flavour of a wheat beer). Be careful, the Belgians like to brew strong beers! As high as high as 8.5% alcohol!!
For hours and menu, visit: