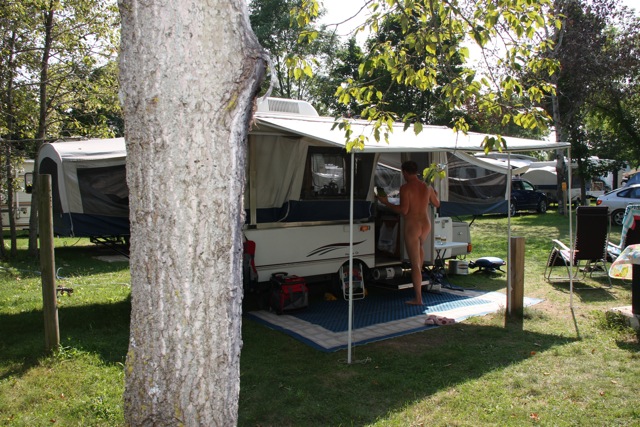 The success and associated growth of Bare Oaks Family Naturist Park have meant that for the last few years all of our year-round sites have been full. More than 65% of our members do not have a year-round site and many of them want one. We are sorry that we can't accomodate everyone but expanding is both expensive and dependent on complex government regulations and approvals.
We do keep 25 sites open for short-term camping. These sites could be filled with year-round campers tomorrow. But we keep them open to make sure that sites are available for the majority of members who do not have a year-round campsite, for visitors who are trying our park for the first time, and to welcome vacationers who visit us from around the world.
How sites are assigned
When a year-round site becomes available (either because someone vacated one or because we have managed to create a new one) they are assigned in the following order:
Members with a serviced site can move to the open site
Members with an unserviced site can move to one of the open serviced sites
Members on the waiting list
On some of the larger sites, we may specify a minimum trailer size or sell a trailer with the site in order to maximize revenue.
We have managed to divide several of the larger sites so we will be making more sites available next week. Members with unserviced sites will be contacted first. Then, if there are any spaces left, members on the top of the waiting list will be contacted.
More sites will be evaluated
We try to be as fair as possible when it comes to making campsite policy. That sense of fairness and a need to keep the park financially stable is why we will be equalizing the lot sizes over time. Of course, there will always be some sites which are bigger and more private but we will strive to minimize the inequality. Additionally, the demand for campsites currently exceeds our supply so future expansion will be necessary as well.
Marketing Fee Increase
Trailers that are sold with a campsite have been selling for up to 300% of their value. Why? Because we've done such a great job of developing the value of the park and marketing it to new members. So it is only fair that we would share in that additional value. Until now, we have charged a 5% marketing fee (with a minimum of $500) on trailers that are sold with the campsite. That is lower than what most other campgrounds in Southern Ontario charge. That fee increases to 7% with a minimum of $600 effective immediately. Of course, you can always sell your trailer independently and avoid the marketing fee but then it must be removed from the site after the sale.
New Development Fee
Many campgrounds force their campers to purchase trailers only from specific dealers. We leave you free to purchase from any dealer.
But we do have an arrangement with a couple of trailer dealers. They were selected because we like their products and services. As well, these dealers share with us a small portion of their profit on units sold in the park. These contributions help defray operational costs and contribute to development.
However, these preferred dealers are at a disadvantage since other dealers are able to undercut them. So members are still free to purchase from any dealer but, effective immediately, trailers not purchased through a preferred dealer with be assessed a development fee of $2,000 for a new trailer or $500 for a used trailer. These fees are waived if the trailer is purchased through one of our preferred dealers.
Trailer Safety
Trailers come with many systems that have the potential to be hazardous. (electrical, propane, furnace, hot water heater, etc…) We want to make sure that trailers brought into the park have systems that are in good condition for the safety of the occupants and their neighbours. As such, effective immediately,
New trailers brought into Bare Oaks must have a CSA certification and must not exceed maximum size limits.
Used trailers brought into Bare Oaks or trailers sold onsite at Bare Oaks must supply a safety inspection report, from an inspector approved by Bare Oaks, before they are allowed to stay. Please contact the office to arrange an inspection. We do not get any financial remuneration from these inspections. This is strictly about safety.
General Campsite Policies
While the parameters of campsite use are generally well understood by most members, a recent discussion with a campsite holder suggests that not everyone understands the situation. Most of the terms surrounding campsite use are outlined in the License of Occupation. But here are a few important points:
Site holders who keep their trailers at the park year-round pay a fee to occupy a specific lot. However, the land remains the private property of Bare Oaks Family Naturist Park. Occupation agreements are for one year at a time and we generally renew them but have no obligation to do so.
We are a community and all members have equal access to the park and its amenities. Occupying a lot year-round makes them a part of our community. But it does not give them space where they can expect seclusion and isolation from the community.
Campsite lots should generally be at least 30 feet wide and 50 feet deep. (with the exception of the larger lots in Helios Circle) However, previous owners were not very consistent in the layout of the campsites, so some lots are actually smaller while others are much larger. We do not guarantee any fixed size nor do we specify boundaries. We expect site holders to live respectfully with their neighbours.
Because we are a community and because there are no specific site boundaries, we do not allow site holders to isolate themselves with fences or tall bushes. Some site holders that have been here a long time may have sites with fences or tall hedges that predate the park. We encourage them to open their sites up to the community.
People with larger than average lots have generally been allowed to keep them as is. However, that is a consideration that we have extended and not a right. Most business-minded campground owners would have immediately terminated such arrangements. But we try to take a more charitable approach. However, those with larger sites should not expect that they will be able to sell or transfer their trailer with the site as is. Those larger sites will be redeveloped in the future.
If a campsite holder's lot backs onto bushes or the forest, they are welcome to use it. However, that area is not part of their lot. Landscaping it does not make it their exclusive domain and the park can use it for other purposes at any time. If they choose to landscape the areas beyond their site, no compensation should be expected if we decide to use it.
Thank you for your understanding and cooperation. If you have any questions, please do not hesitate to contact the office.