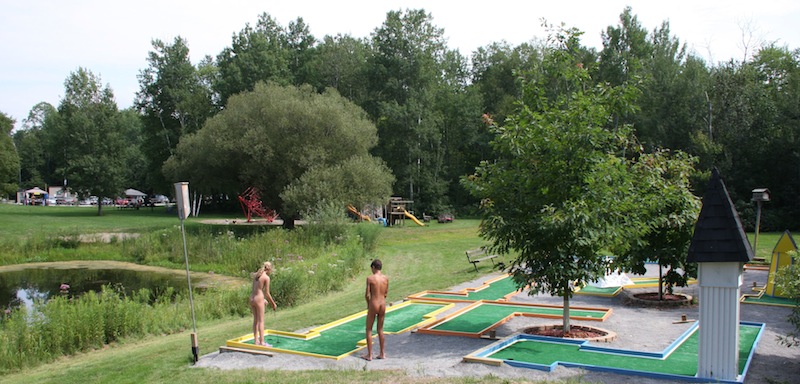 The new mini-golf is now open!
Everyone is welcome to play. Putters and golf balls are available in the office.
This was not a Bare Oaks undertaking. Rather, it is the fulfillment of 3 years of dedication and perseverance by several Bare Oaks members who wanted to create a project that would enhance their park.
Paul, one of the main organizers, tells the story as follows:
The idea germinated during discussions between members during the summer of 2008. Fundraising started September 2008 and ran through May 2010. The money was raised though numerous dances and casual meals offered by members over the winter seasons. The fundraising effort was managed by Gord & Colleen, Stony, and Liz & myself. We raised over $6,500 for the project with all but $480 currently spent on materials. The remaining funds will be used to complete the finishing touches.
During this period, additional funds beyond the $6,500 were allocated for the fire pit in Beckett Circle, lighting for that area plus replacement of the lights on the bridge to Strawberry Fields.
Construction began in May 2010 with the removal of the sod, followed by the limestone being brought in during June and the frames built through the end of the season. The buildings that are there today were built by high school students under the direction of their shop teacher, a member of Bare Oaks, throughout the school year 2010-2011. The main construction began this spring and was completed the week of the FCN Festival. There are still tasks to be done but it is now usable.
Stony with assistance from Larry removed the top level of sod from the site. Bob and Stony moved all of the limestone from the parking lot to the site and did the rough levelling. Dave volunteered his students to build the four structures we currently have using materials that we supplied. Most of the construction was handled by Stony and myself. We had assistance over the last four months from Marc & Suzy, Kim & Wendy, Bruce, Steve, Marc, Dave, Ulli, Kevin, Melissa, Marianne, and Rosie. I think that is everyone, although it is possible I may be overlooking a person or two who contributed. I apologize to anyone who was missed. It was not intentional.
So to everyone who contributed either financially or through your sweat and toil (or both!) a very big thank you!! All the members and visitors, both present and future, will certainly appreciate your hard work.