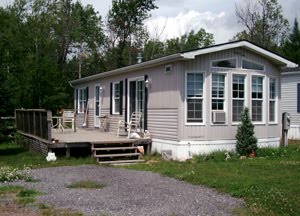 As explained in the July 4th blog post titled Campsite Policies, there is a process by which sites are assigned. It follows this order:
Members with a serviced site can move to the open site
Members with an unserviced site can move to one of the open serviced sites
Members on the waiting list
So far this year, we have managed to open 10 new serviced sites either through people giving up their site or by dividing large sites. Most of the people who have taken these new serviced sites were already on an unserviced campsite. But a few were from the top of the waiting list. There are still a number of people on the waiting list but if you are not there, you will never get the opportunity. So if you are interested in a campsite, please contact the office right away to place yourself on the list.
In that same post, we also said:
On some of the larger sites, we may specify a minimum trailer size or sell a trailer with the site in order to maximize revenue.
That opportunity has just come up. There is a premium site in Helios Circle on Lake Beamor with year-round water, 100 amp electrical service and sewage connection that has become available. The first person who contacts the office during business hours and commits to purchasing a peaked-roof, park model trailer from an authorized dealer with get the site. Please note that the person who takes this site is responsible for the costs of hooking up the services in addition to the regular site fees.
As well, we should point out that there is currently a trailer for sale in Helios Circle. See the Used Trailers section of our website for details. (you can also subscribe to the RSS feed or the Google Feedburner email list if you want to receive notifications when a new listing is added)