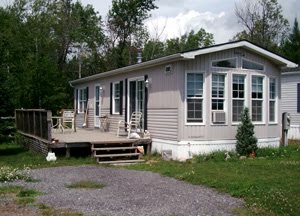 There is a great demand for trailer sites at Bare Oaks Family Naturist Park. There 14 members on the waiting list for a year-round campsite.
But rest assured that we will continue to keep 25 sites for short-term use. That way, everyone gets a chance to spend a weekend or their vacation at the park.
But if you want a year-round campsite, there are ways to get there faster.
(1) Members who take an unserviced spot (no water, no electricity) get priority on the waiting list.
(2) Members who buy an existing used trailer with a campsite through the office get to keep the site. There are a few trailers currently for sale. We expect a few more to become available in the next month. There are several ways to keep track of what is for sale:
Check the bulletin board outside the office
(3) Finally, we occasionally make a larger, premium site available to the first person who purchases a new trailer through one of our preferred trailer dealers. That situation has just presented itself with site #105 in Helios Circle. It is a large site with year-round water, sewer connection and 100 amp electrical service. It is currently occupied by a unit that will be leaving. The site is available to the first person who commits to purchasing a new, peak-roofed, park model trailer from one of our preferred trailer dealers. If you are interested, please contact the office.